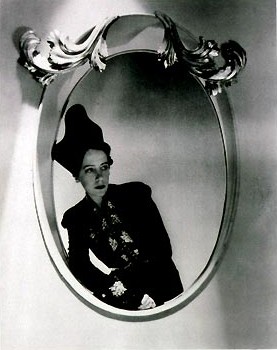 I'm gearing up to present at CUNY's upcoming interdisciplinary conference "Jesters and Gestures: Irony at a Crossroads" (February 24 – 25), and as I was brainstorming what I might be able to bring to the table, Surrealist fashion just screamed at me. Here's a teaser of what I'll be speaking on:
Irony is typically associated with the literary and oral; I intend to explore visual irony, specifically within Surrealist fashion, where puns are conceived and presented as optical double entendres, adding layers of meaning to deceptively simple forms. Inconsistencies between expectations and realizations of fashion are often humorously absurd– but what initially seems silly can effectively question functionality, gender, art history, politics and social standards. The Surrealists were, after all, affiliated with the French Communist Party (before they were kicked out!), but their focus was on an emotional revolution that they believed would achieve the same ends as a strictly economic one would.
Elsa Schiaparelli was the first and arguably the most influential designer to explore irony in dress, collaborating frequently with fellow Surrealists Jean Cocteau, Salvador Dali, and Man Ray. Following the tenets of Surrealism such as the banishment of false rationality and restrictive customs and structures, she conflated tropes of music,
optical illusion,
classic statuary and traditional fashion,
deliberately presenting incongruity and discordance. Riffing off fine art history, she employed painterly trompe l'oeil to give the illusion a 1938 evening dress was inside-out and had tears in the fabric, revealing glimpses of the "right" side (meanwhile, the matching veil had three-dimensional "tear" flaps, further disorienting the viewer):
This simulation of a ravaged frock was silly (who would wear a dress inside-out?) but also bitingly sarcastic,  contrasting Great Depression poverty and pre-WWII fears with the escapist American films in which women could still afford luxurious evening gowns.
Schiaparelli set the stage for subsequent designers like Martin Margiela to present social and economic contradictions, examining themes of dystopia, discord, and discontentment in unexpected sartorial forms. Exaggerated silhouettes or familiar motifs are amplified to ridiculous extremes in Surrealist– and now "deconstructed"– fashion, or with some "essential" element mutated or missing entirely. Surrealist and deconstructed fashion frequently compares humans to inanimate objects like furniture,
internal anatomy,
and displaces body parts, indicative of dismemberment or ferocious self-protection:
While fashions making these analogies may seem whimsical (a hat that covers one's eye while creating another, larger eye is ridiculous after all),
they nonetheless question the ideal body form, gender norms, and can express unease, uncertainty, inequality, and the political unrest pervasive in the years leading up to WWII.
If anyone's planning on attending (and you should, I'll have a lot more to share and show!!), do drop a line and introduce yourself!