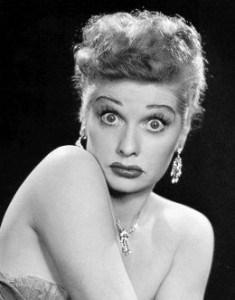 This recent August 6 would have been Lucille Ball's 100th birthday (1911 – 1989), and crowds of impersonators showed up to celebrate in her hometown, Buffalo, NY. There were polka dot dresses, garish red curly wigs, and red lipsticked lips galore in attempts to emulate the comedienne:
Though this ensemble became iconic for the woman (even in black and white, her garish, dyed red hair was a frequent punchline), it was actually only representative of a carefully honed looked for her best-known character, Lucy Ricardo (which was, of course, based on her own larger-than-life personality), on her shows I Love Lucy (1951 – 57) and subsequent insinuated-reprises including Lucy Carmichael in The Lucy Show (1962 -68), and Lucy Carter in Here's Lucy (1968 – 74). Prior to TV success, she had a less-celebrated stage and film career during which she and the studios (RKO and MGM) altered her look in ill-advised attempts to cast her in more traditional romantic roles (she was briefly a Ziegfeld Girl). During this time, she was barely recognizable — in that she was often legitimately glamorous, even modeling for fashion entrepreneur Hattie Carnegie! From a pretty but typical-looking young woman…
…to a bombshell uncannily mimicking some of the great sex symbols of the silver screen:
Lucille was a cover girl for Max Factor in the '30s and '40s, and her lip outline changed radically over the course of these years. In the vaudeville tradition, Lucille uglified herself with clownish makeup to enhance her physical humor. Playing the housewife of a celebrity, she was attractive but made up to highlight her expressive faces. The false eyelashes and permanently arched penciled eyebrows accentuated her inevitable bug-eyed uh-oh face, and her lip shape morphed into the wide-mouthed smear that accentuated her smiles and grimaces. Compare the sophistication of Lucille's Max Factor model persona (and her comparitavely normal lip shape…
To the makeup of lovable but distinctly vaudevillian Lucy:
Though you can see Lucille was lovely and certainly capable of being glamorous, her impish personality and physical brand of comedy (still uncommon in female actresses) always tempered the glitz– she seems to be laughing at the outrageous fashions of her day, even as her Lucy character covets them (she is constantly trying to save money from the household allowance Ricky doles out so she can purchase pretty dresses).
While Hollywood was experimenting with camera and projection techniques like wide screens, 3-D, and special effects (think of all the sci-fi, B-horror, and spaghetti Western movies that came out of the '50s), the new medium of TV often focused on the American home — daring to show more middle and even working-class family life like The Honeymooners (1953 – 56), The Donna Reed Show (1958 – 66) and Father Knows Best (1954 – 60) that generally reaffirmed the survival of the patriarchal American family dynamic in the post-WWII years. While I Love Lucy ostensibly follows this family drama formula, there were some notable differences between the Ricardo family and that of other superficially comparable TV shows.
The vast majority of I Love Lucy was filmed in the Ricardo apartment, as it was ostensibly about a good little '50s hausfrau and her bread-earner entertainer husband who spends large chunks of time off-screen as we follow Lucy's days. Accordingly, we saw Lucy in a lot of cinched-waisted house dresses and aprons as she goes about her household chores:
You might also note that in both the photos above she is not wearing the pointy, teetering stilettos of the day (that we can assume, say, Donna Reed's character did while performing mundane housework), but rather practical ballet flats. Though she is dressed for housework, Lucy spends almost all  her days scheming how to break into showbiz / meet celebrities / buy pretty dresses. Again, unlike Donna Reed's accomplished housewife, we do not get the impression that Lucy excels at cooking or decorating or budgeting the household allowance (see "The Freezer" episode where she buys beef in bulk to save money for a dress) because she has dreams that exist outside her apartment. Which leads to the logical question, who really wore the pants in the Ricky / Lucy relationship?
It has been suggested that audiences would not have enjoyed Lucy — a brash woman who frequently wore pants — taunting, insulting, and continuously disobeying her husband if Desi had not been Cuban. In spite of his good nature and machismo, his immigrant (a.k.a. "inferior") status made it ok to root for his hairbrained wife, who frequently parroted his heavy accent like an infantile school boy to gain the upper hand in squabbles.  Meanwhile, behind the scenes, Lucille had tremendous business savvy and became the first woman to own her own TV studio (DesiLu Productions). Below, we see Lucy in rather loud plaid pants that speak to her dominant role in the marriage and one the show, and also recall her vaudeville roots (her father had brought the family to shows, and Lucille trained with Buster Keaton)
Pants on a woman was shocking in '50s culture, much less '50s TV portrayal of idealized family life. Though she's not as known for it as, say Marlene Dietrich or Katharine Hepburn, Lucille wore pants on and off-screen:
Both women are buh-diculously wealthy heiresses.
Interestingly, Lucy was one of the first women to dare show herself in masculine pants on TV, and also in her feminine glory — that is, pregnant — on TV. The episode "Lucy is Enceinte" (aired December, 1952), was when Lucy revealed to Ricky she was pregnant — a word the censors would not let her say, hence the euphemism "expecting". Lucille was also pregnant in real life, and you can see she her wearing fuller and frillier dresses and shirts leading up to the actual revelation. Pregnant women have always made the "general" (read "male") public  vaguely uncomfortable, and it was a big deal that Lucy actually looked pregnant rather than hiding her bump until an off-screen birth.
Not only was she a awesome physical comedienne, Lucille Ball chipped away at what a woman's role had been defined as in the '50s. Lucy wore pants, sensible shoes, disagreed openly with her husband, and she never gave up on her dream: to be an entertainer. For all these reasons and more, I love Lucy.
Further Reading: