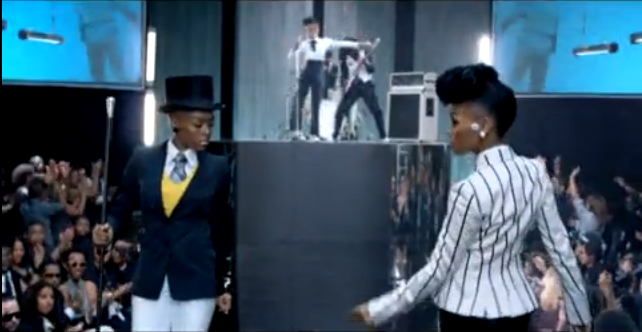 A friend of mine sent me a link to Janelle Monáe's "Tightrope" video earlier this summer, and I have been obsessed with the dame ever since (I give you permission to play it when you want to cheer yourself up, and/or have an impromptu dance party, as I do). Not only are her pipes amazing (her concept CDs Metropolis: the Chase Suite, and the sequel The ArchAndroid, are testament to her vocal and style range), but her look! — it's quirky, fun, formal, and has a healthy dash of what I must assume are her professional singer / performer icons, who mostly appear to be men (James Brown and Michael Jackson high up there). Metropolis is obviously an homage to Fritz Lang's 1927 classic, and both Lang's and Monáe's are futuristic tales of class struggle and oppression; in Monáe's case, it's more explicitly about race, with a healthy smattering of gender twisting in there.
Janelle's first video "Many Moons" depicts an android auction of Janelles, each robot primped and dressed and coiffed for different personalities; bidding wars take place among the underworld elite members of the audience as they compete for the Janelle version they desire, while the prototype Janelle performs live while her sisters are sold off.
The Chicago Tribune wrote of the sequel album (which can just as easily be applied to the premier):
"'The ArchAndroid' has ambition to burn. It's a self-empowerment manifesto couched inside a futuristic "emotion-picture" about an android's battle to overcome oppression. The notion of space travel and "new worlds" becomes a metaphor for breaking out of the oppression that enslaves minorities of all types in the present one — a theme that has a long tradition in African-American music, from Sun Ra and Parliament-Funkadelic to Cannibal Ox and OutKast."
What I couldn't help noticing was an uncomfortable similarity to modern-day fashion shows the auction block was. The chic foreign announcer, Lady Maxxa, introduces auction show with live performer Cindy Mayweather (Janelle), who is the prototype of the Alpha Platinum 9000 droid line. Cindy Mayweather performs the song we're listening to, to the enthusiastic concert-like crowd's cheers, dressed in Janelle's staple white dinner jacket with black silk ribbon tie and nouveau saddle shoes shown to their advantage by highwater tuxedo pants, topped by Janelle's ever-amazing pompadour.
The introductory celebrity shots of crowd members in the video mimic the paparazzi shots of the front rows at runway shows (which actually have their own photo section on Style.com), giving perhaps undeserved clout and prestige to the designer who snags A-listers attendees, regardless of the strength of the collection on display. The photo below of Jennifer Lopez and Eva Longoria literally cuts off the actual model in favor of the famous attendees: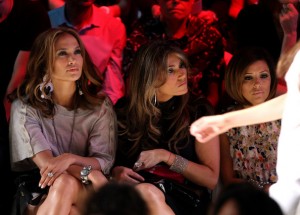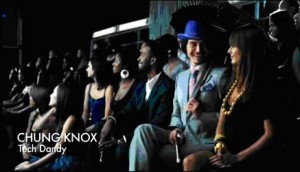 When Cindy Mayweather throws her jacket off in a burst of enthusiastic performing (2:06), revealing her cinched cummerbund, girls in the mosh pit shriek in ecstasy, upsetting the typical gender divide of girls shrieking for male sex symbols. This is only mildly surprising, since the outfit, high hair, and energetic mic moves are very much in the vein of James Brown (whom Janelle readily claims as a primary inspiration):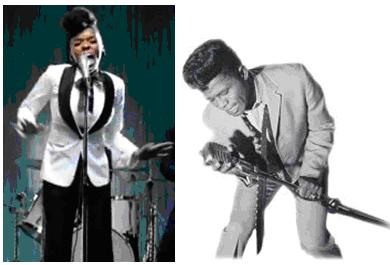 Over the years, fashion shows have moved from private parlors of the fashion house to larger and more ornate venues, often bombarding the larger audiences with light shows, video installments (Alexander McQueen famously used a hologram one year), and live musical performers, increasing the fashion spectacle to performance art highs. Below is the delightfully quirky Tori Amos performing for one of my favorite Viktor & Rolf runway shows, Autumn/Winter 05:
The theme of multiplicity and interchangeability of non-Caucasian ethnicities ("they all look the same") is explored too (see my earlier post on multiplicity in Coraline). All androids, including the performer Cindy Mayweather, are part of the same line of androids, but are dressed up differently. Their shared roots are only made explicit in shots of the chorus backstage, when they're all wearing identical tuxes (but different from Cindy Mayweather's tux):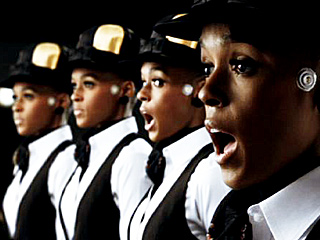 Monae has turned the fashion industry's standard of racial desirability on its head here, since in our world, models of color are notoriously overlooked and under-employed. In a rather shocking NYTimes article about model scouts who seek recessive white gene pools in Brazil it was noted, "The goal, he and other model scouts say, is to find the right genetic cocktail of German and Italian ancestry, perhaps with some Russian or other Slavic blood thrown in. Such a mix, they say, helps produce the tall, thin girls with straight hair, fair skin and light eyes that Brazil exports to the runways of New York, Milan and Paris with stunning success." Janelle has tipped the scales so in her futuristic world there is the unapologetic presentation of beautiful women of color on the runway, but with the uneasy narrative of an android (slave) sale. Below is an etching of an actual slave auction; you can see there is the auctioneer (not a stunning, fashionable black woman but a white man), the dapper white men looking to buy a human being (some of whom have switches in their hands already), and an upsettingly orderly clump of black men, women and children behind the stage awaiting their turn to be put on the auction block: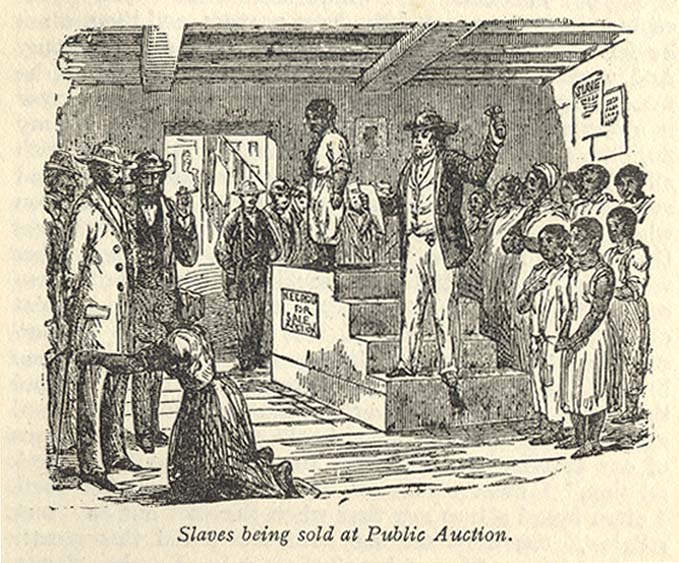 The advertised prices of the androids could just as easily be pricetags of designer clothes…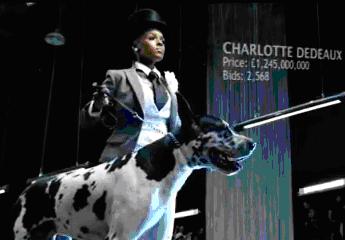 and Monae's androids aren't so meek. The fierce faces the various androids make are taken directly from the fashion runways: no smiles allowed, just sexy, defiant snarls.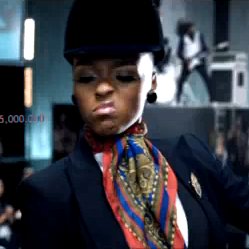 And traditional gender and racial stereotypes are questioned subtly again in the backstage primping, when a white male adjusts the corset and hair of one of the androids;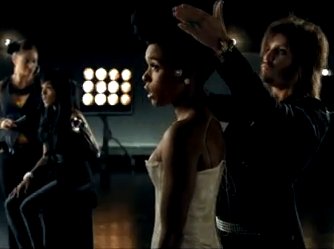 The image most common in European and American art is that of a black servant or maid doting on his/her alabaster employer. One of the most famous is that classic depiction of enslaved Mammy from Gone with the Wind (1939), lacing Scarlett's stays for a picnic she herself will not attend:
Interestingly, the costumes the various androids parade in aren't typical slave rags, but are archetypes of wealthy white men pastimes. The jockey,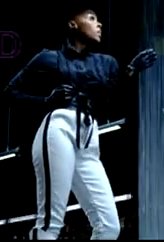 The gentleman hunter,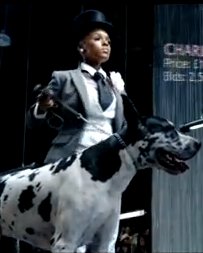 The slick banker,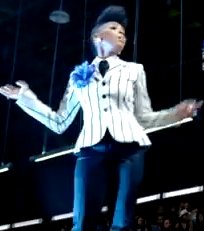 and the flaneur dandy.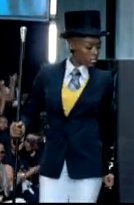 The exception is a clear homage to Amelia Earhart –Â  who excelled in a male-dominated profession in male clothes (see my post on Women, Pants & Politics) — and whose photo is actually projected behind the android who wears a similar pilot jumpsuit and goggles. Distinctly not glamorous, with a clomping booted gait, the low camera angle emphasizes the android's strength, stature and importance: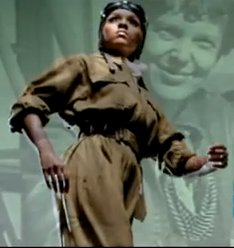 All told, I'm not sure that Janelle Monáe intended this to be commentary on the fashion industry per se, but it's undeniable that she took heavy inspiration from designer runways to develop her racial / social / gender agenda with these concept albums. Deliberate or not, it's frankly a bit disturbing to me that the fashion runway format lends itself so perfectly to this tale of oppression, the stink of slavery and continued female oppression in a glossy, modern, eerily familiar context.