I attended the grand re-opening of the Museum of Design (somewhat humorously abbreviated to "MAD Museum") at it's new location on Columbus Circle, an event I had been hotly anticipating even before I received an invitation to the party; I love all sorts of crafts, and textile arts are often included under this broad header. To my delight, there were several textile related pieces that drew my notice.
Do Do Suh's "Metal Jacket" (1992-2001) was a sleek and impressive garment reminiscent of an Asian (perhaps Korean?) coat of armor that was comprised of 3,000 stamped army dogtags. In addition to the lovely craftsmanship, I adore the beautiful irony of dogtags being a necessary body ornament in war, but completely ineffectual as protection: they are the most functional after their wearer has been wounded or killed already.
Susie MacMurray's "A Mixture of Frailties" (2004) was comprised of hundreds of heavy-duty latex gloves turned inside-out and attached to form a feathered wedding dress of sorts. The gloves' cleaning function was a clear commentary on the (continued) subservient role of women– especially within marraige): the overwhelming majority of maids and cleaners in the world are women, both professionally and in their personal lives. Now what could the suffocating effect of the rubber and weight of all those gloves be commentary of? (These aren't my thoughts, people, I'm just interpreting art here!)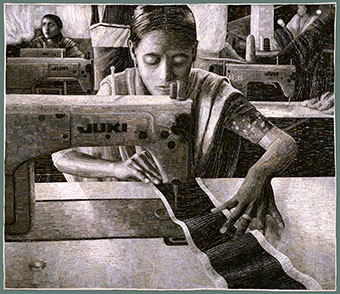 Terese Agnew's "Portrait of a Textile Worker" (2005) was a large (98″ x 100″) wall hanging canvas depicting women in a workshop / sweatshop. Unusual that the workroom appears quite tidy – even austere. It depicts textile workers less like frenzied slaves than as lonely, single-purposed drones. I like how the sewing table in the foreground takes up almost the whole lower half of the piece, as was a common of Japanese woodblock prints, and Impressionist paintings (that borrowed the idea from the Japanese); it effectively gives the illusion that the sewing table is engulfing not only its worker, but the room.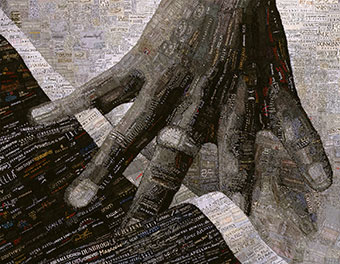 Did I mention that it's made of 30,000 clothing labels sewn together? Speaking of drones at sewing machines, how many indirectly participated in the creation of this project?
Devorah Sperber's "After the Mona Lisa" was  5,084 spools of thread strung on metal chains hanging from the ceiling like a beaded door. It was near impossible to see any specific picture in the chunky colored rolls, but when viewed through the small crystal ball set up in front of it, the Mona Lisa– holding a camera pointed at you, the voyeur tourist– popped out at you. Armed with the knowledge of what famous image you're looking at now, you can revisit the oversized pixels of colored thread and see that the spools actually depict that great lady upside-down, which compounded the difficulty in seeing her in the first place. I like the whole camera obscura low-tech aspect of this project, in addition to the pretty pretty thread.
I'd love to hear of other people's favorite textile artworks….